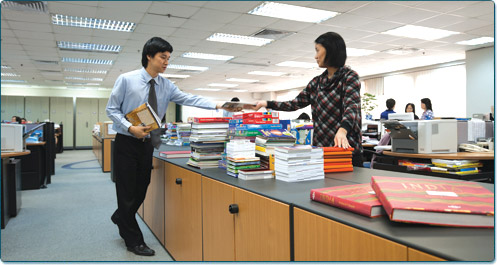 Headquartered in Hong Kong, we are ideally placed to deal with enquiries from our international client base. All our quotations, sourcing, production supervision and logistics support are handled by our multi-lingual staff. Hong Kong's proximity to our vendors in Greater China and Southeast Asia gives us the ability to be on-site within two or three hours at most to either supervise production or to solve any problems that may arise with an order. This has proven to be both time- and cost-effective for our clients.

Sales & marketing for Europe, South Africa, Asia and Australasia is administered from Hong Kong with regular client visits arranged throughout the year. In addition, we attend the major book fairs in Bologna, Frankfurt and London to provide other opportunities for direct access.

For general contact information, go to Enquiries.

Whilst our Hong Kong vendors maintain their headquarters in the city, most have moved their factories to southern China to take advantage of greater available industrial land supply and a skilled and plentiful workforce. All maintain the high standards of production for which they have consistently been renowned over the period we have known them, in some cases for nearly 30 years.

Malaysia has emerged as an attractive destination for production for much the same reasons as China. We have reliable vendors within the country whose product has achieved the standards required by our global clients.

Clients based in the USA and Canada are welcome, as always, to contact us directly. Additionally we have sales representatives, based in the USA, who are on hand to facilitate general enquiries from any part of the continent. This is particularly useful given the difference in time zones between North America and Asia.

To obtain information on the USA representatives, go to Enquiries.